Sometimes it's hard to find the right gift for the fish nerd in your life. You've already got them a trout mug, largemouth bass flip flops, and a set of mahi mahi pint glasses. Maybe this year, you want to give them something a little more meaningful, and support small businesses along the way. Here's a list of ideas just for you:
A one of a kind block print from Mary Beth Meeks: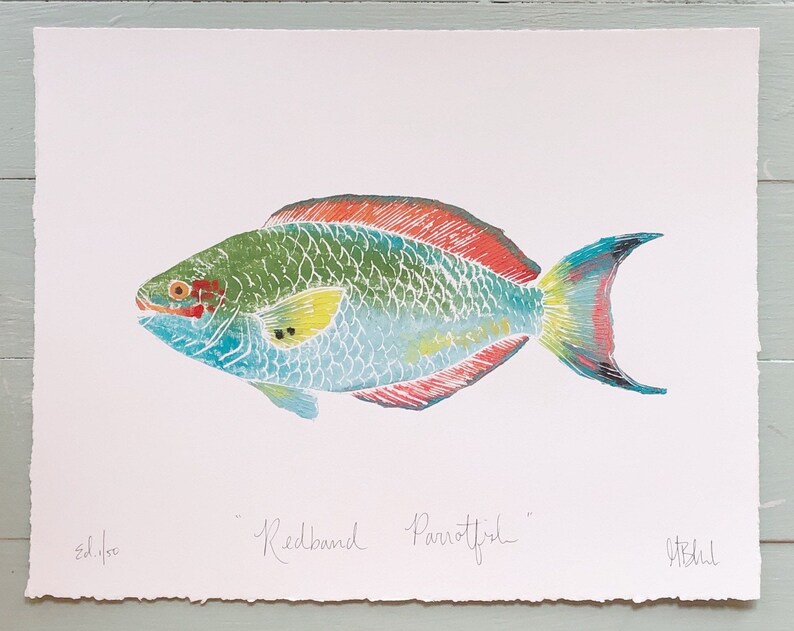 Mary Beth is a friend of mine from Jasper, Alabama that specializes in hand carved linocut printing. Each species is drawn carefully and carved by hand into a piece of linoleum, hand painted with brightly colored ink, and then pressed onto high quality paper to reveal a beautiful image. Each print is unique in its own way, so you know you're getting something special. Also, MB is a wonderful person, and supports local conservation groups like the Riverkeepers of Alabama with a portion of her proceeds. Check out her etsy store!
The Mayfly Project is a non-profit organization founded in 2015 by Jess and Laura Westbrook in Arkansas. The rapidly growing program uses fly fishing as a catalyst to mentor children in foster care, who often suffer from severe anxiety disorders and emotional trauma. Purchasing a hat helps fund their mission: to support children in foster care through fly fishing and introduce them to their local water ecosystems, with a hope that connecting them to a rewarding hobby will provide an opportunity for foster children to have fun, feel supported, and develop a meaningful connection with the outdoors.
A dry bag for your trip to the Everglades next year
Bonefish & Tarpon Trust is a non-profit that supports research and conservation of neotropical sportfish habitat around the world. Their main focus is on bonefish and tarpon, obviously, but their work also supports countless other species that rely on habitats that are rapidly disappearing. Buy something useful for your beloved fish nerd, and make a difference for these incredible animals. BTT's mission is to conserve and restore fisheries and habitats through research, stewardship, education and advocacy.
If "stuff" isn't your thing, give something that really makes a difference. Pick from this awesome list of restoration initiatives by the Chesapeake Bay Foundation and make a donation in honor of your loved one. For 25 dollars, you can seed a reef with live oysters. Oysters are ecosystem engineers with a tremendous superpower. An adult oyster can filter as many as 50 gallons of dirty water per day. The oysters in the Bay could once filter a volume of water equal to that of the entire Bay (about 19 trillion gallons) in a week. Today, it would take the remaining Bay oysters more than a year. Your gift could have direct impacts on restoring that ecosystem to its former glory. And what a way to say "thank you" to our wonderful hosts at the American Fisheries Society National Meeting in Baltimore this year.
My favorite fishing publication features the highest quality writing and photography you will ever see in a fishing magazine. Stories feature amazing fish tales from far off destinations, as well as info pieces on conservation issues. Seriously the most beautiful magazine, and the editors are wonderful people.
By supporting a waterkeeper with a donation, or buying some merchandise, you can help restore native fish habitat, hold polluters accountable, and keep your local watershed clean and safe for all to enjoy. Consider making a donation in a loved one's name, or getting them a cool shirt. If you don't have a local waterkeeper, consider donating to Coosa Riverkeeper here in Alabama. The Coosa is a national treasure and biodiversity hotspot. There are more native species of fish in the Coosa River than in the entire state of California! They have some sweet merchandise for sale on their website.